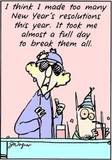 The current topic comes from
BJ
who asked:
What are your writing resolutions for 2010?
Obviously, I want to do my Hammer Dance all over St. Louis. I can not deprive the world of my gift of dance any longer. To do so would be a crime. (Okay, I'm so lying - my dancing style looks like I need a phenobarbital Rx. But a promise is a promise!) So in order to do that dance I have to sell my novel. The first part of that equation is done. I finished revisions of KATANA and have them with an awesome beta reader. I should have them back at the end of this week and after a couple more tweaks my agent should have them by the beginning of next week.
Then the real fun begins.
So in order to keep my sanity (and to keep my email checking fingers from carpal tunnel) I've resolved to have my first round of edits to BREATHLESS done by March. Steep goal? Yes. Impossible? No.
I'm a bit too superstitious to write Book 2 to KATANA. I'm certain that if I write the second book book one will never sell. Silly? Yes. Am I too set in my ways/stubborn to be persuaded otherwise. I'm sure I have no idea what you're talking about. :)
So if I happen to still be waiting on submission responses by March (which is more than likely) I plan to finish an old WIP of mine. It's a MG titled Dragon Heart Dice. A boy centered comedy/adventure - a far cry from my usual YA paranormal romance. Which is fine because I like to push myself.
And that in itself is a resolution. To keep pushing myself. To write outside of my comfort zones and explore new styles and genres.
Check out
Shaun's-I-can-never-spell-his-name-right-the-first-time-I-type-it
response from yesterday and
Rebecca's
response tomorrow.
So how about it? What's YOUR resolution?