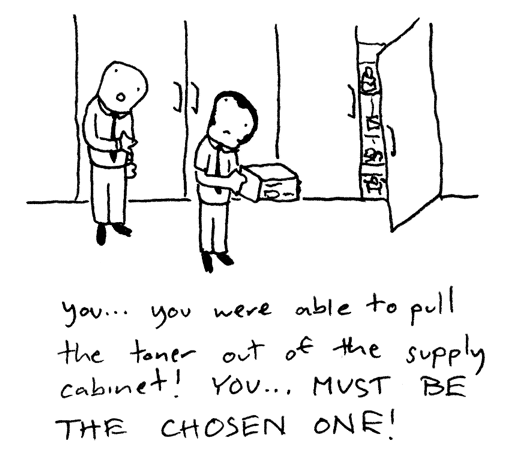 First off, let me apologize about the obscene rate to which I have been posting. I'm scrambling to polish off my 2nd book, refinish a foreclosure that I just bought, and piece together a new king-sized quilt.
Because I'm crazy?
We already covered that.
But in addition, my agent has launched my book out into scary submission land so I overdid it a bit when he suggested I find things to keep myself busy. Hee.
So back to the blog chain!
This chain was started by the talented
Eric
, who asked:
Do you create characters that are larger-than-life or are your characters more like the average Joe?
Can I be honest for a moment? I am so OVER "The Chosen One" already.
I know! I know! I can hear you gasping from here. "Aren't you a Buffy fan?" you ask.
The biggest there is. Just downloaded my Buffy theme song ring tone for my new phone last weekend. But that's my point. I think the whole "Chosen One" thing has been done. And it's been done to DEATH.
Think about it. We've had:
1. Buffy Summers
2. Harry Potter
3. Luke Skywalker
4. Bella Swan (only listing her because Edward couldn't read her mind, making her unique)
5. Anita Blake
6. Sookie Stackhouse
7. etc. etc. etc.
Everyone of these characters had a special/unique ability, without which, the worlds in which they lived in would have been in deep $@.
And I'm not absolved from the trend. In my first book, my MC is a 17 year-old girl who harbors the spirit of a 15th century samurai. Obviously, that doesn't happen to everyone - because if it did then our world would look like a scene out of Kung Fu Hustle which would be:
A. Awesome
and
B. Awful because I would be too busy kicking ass and taking names to write.
(Hey, a girl can dream) ;)
Anyway, it just seems to me that every book I've picked up lately has another "Chosen One" MC. And there's nothing wrong with that as long as the spin is:
A. Fresh
B. Appealing to the reader
Because how awful would the Hunger Games have been if Katniss Everdeen was just an average girl. She would have been killed in the first 20 pages, and there you go, end of story.
But I wanted to do something different.
So, in my current book, there is nothing unique about my MC except for the fact that she was in the wrong place at the wrong time. And let me just tell you - Wow! Has it been a challenge to write. But that's okay. I wanted a character that young girls could relate too. One that they could read and think, "Hey, that could be me" and "I'd totally do that". And again, I know I've touched on this before, but my MCs don't drink or do drugs. Only because, as a mother, setting a good example is important to me. That's not to say that my characters aren't around such things because, get real, it's high school.
And let me just say that I'd never condemn a book that did, because geez, have you read Courtney Summer's SOME GIRLS ARE? AMAZING!!! I don't think you could get a more real glimpse into the real life world of teens unless you went all 21 Jump Street.
...mmmm...Johny Depp...
But I digress. In short, to answer Eric's question:
Do you create characters that are larger-than-life or are your characters more like the average Joe?
My answer is, both!
So how about you? Do have the next great spin on, "The Chosen One"? Or do you prefer to keep it real?
Check out the stellar
Shaun
, who answered this question yesterday (and is already planning his book release - squee!) and the lovely
Rebecca
, who will answer tomorrow.