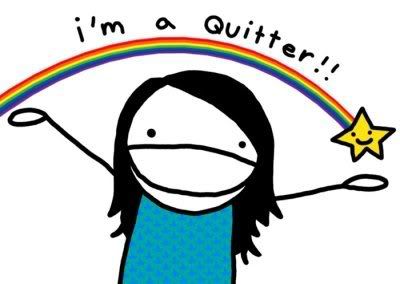 Rejections suck.
Writing is hard.
Feedback is painful.
And the urge to quit is overwhelming.
We've all felt this way at one time or another. Today, I had a dear writer friend joke with me that she was going to quit.
"So do it," I told her.
Her eyes widened.
"Just as long," I continued, "as you stay committed to the cause and quit quitting."
You see, real quitting takes commitment, you can't half-ass it. Two years ago, after I received my 100th rejection on my first book, I threw in the towel. But, you see, I'm a hard core quitter. So much so that I quit quitting only a few months later and was back at the computer drafting my next novel - the novel that would land me my agent agent, go out on submission, and...well, hopefully I'll have news soon :)
So, my advice to those considering quitting? Go ahead. (Just remember to follow through.)
:)