It's my turn to start the blog chain!
Yay
! And I want to know...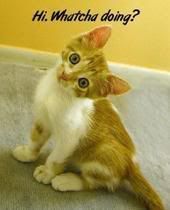 Are you querying? Gearing up to go on submission? Writing? Revising? I'd love to hear what's new with you. And if you'd like to share a

snippet

of your

WIP

, even better!

While waiting for
KATANA
edits I put the finishing touches on BREATHLESS and sent it off to Agent Awesome to await his notes. Needless to say, my nails have been chewed to the quick. BREATHLESS is nothing like
KATANA
as far as tone goes so...it's going to be interesting to see what Chris thinks. :)
In the meantime, I've started work on
KATANA
II - tentatively titled DOUBLE EDGED. For the last couple of weeks the words have been slow. I had trouble switching gears from dark/romance (BREATHLESS) to action/comedy again. Luckily, for no reason I can think of, two days ago a switch flipped and the words are finally coming. So,
yay
on that!
Aaaaaand
just for fun I've included a
snippet
of BREATHLESS. I'd love to know what you think!
Bastin's

eyes grew impossibly wide. "Your kind are cannibals?"

I laughed again. "Are you serious? Look, they're only kissing."

"Kissing?" He glanced from me to the rolling shadow across the bayou. "What is kissing?"

I stared at him. "For real? You know, lips pressed against lips."

"I don't understand the purpose." He sat back down next to me. "Please explain."
"Um…" I shrugged, searching for the words. "When two people like each other…they kiss."

"Why?"

"To show the person they like them. So they don't have to use words."

"Why?"

I ran my fingers through my hair. "I don't know! They just do!"

Bastin

blinked, waiting.

I sighed. "Look, you're asking the wrong person. I'

ve

never kissed anyone, so I don't really know what the big deal is."

With superhuman speed,

Bastin

leaned over me, trapping me between his arms. Before I could so much as blink, his head lowered, so I could smell the salt on his skin and feel the heat of his breath against my cheek.

I yelped and flattened myself against the dock. Bad move on my part because it enabled

Bastin

to swing his leg over mine and pin me down. "What are you doing?" My voice came out a pitch higher than normal.

He tilted his head so that his hair slid over his shoulder, cutting me off from the rest of the world in a curtain of silver. "I'm going to kiss you.

"
I'd love to know what you're up to. Feel free to tell me in the comments. As always, thanks for stopping by and make sure you check out
Shannon's blog
for her answer tomorrow!